As a 911 dispatcher, it is essential to have strong communication, problem-solving, and decision-making skills to handle emergency calls and dispatch appropriate resources effectively. The Criticall test is a widely-used assessment tool for public safety agencies to measure cognitive abilities, personality traits, and relevant knowledge. It is often used to screen candidates for positions such as 911 dispatcher, police dispatch, and EMS dispatcher.
Performing well on the Criticall test is essential for advancing the hiring process and securing your desired job. A high score on the Criticall test can give you a competitive edge and increase your chances of getting the job you want. This blog will provide tips and strategies for maximizing your score on the Criticall test and increasing your chances of success.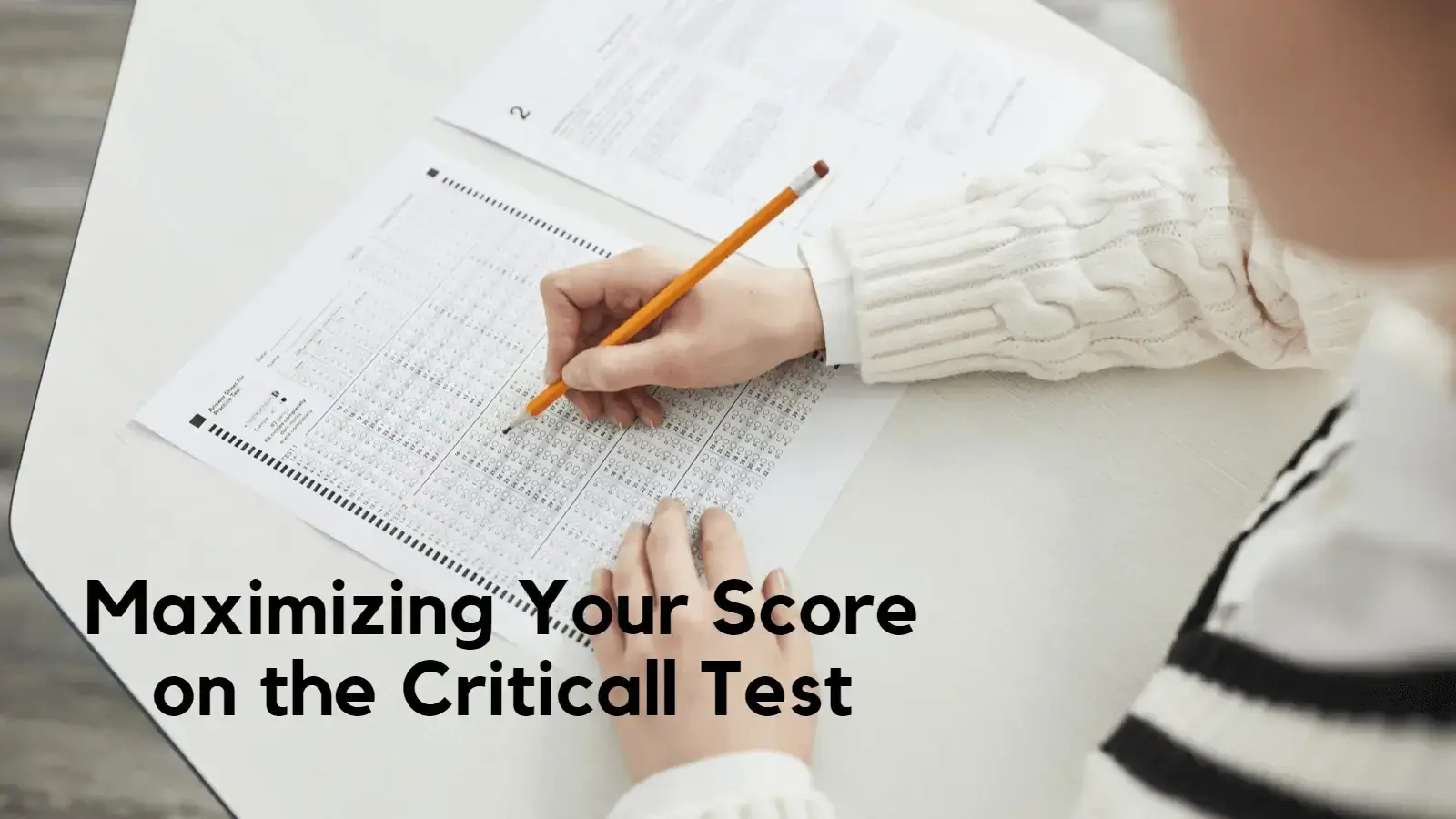 What is the Criticall test?
The Criticall assessment is an effective pre-employment testing tool that several public safety departments use to measure cognitive skills, character traits, and relevant expertise. This test is often used when recruiting 911 dispatch operators, police dispatchers, and EMS dispatchers. The Criticall test is divided into two sections: the cognitive section and the personality section. The cognitive section tests your ability to recognize patterns, remember information, and solve problems quickly. It also assesses your knowledge of public safety procedures, laws, and regulations related to emergency dispatch.
The personality section measures decision-making, multi-tasking, critical thinking, and communication. In addition to these two sections, the Criticall test also includes an audio clip that tests your listening skills and ability to understand accents when communicating with callers. This test also measures your typing speed and accuracy, which is essential in a job involving frequent communication.
How to Prepare for Criticall Test?
In order to prepare for the Criticall test, you should focus on individual skills tested in this assessment. Every agency has different criteria for each task, so make sure you understand what is expected of you in each section. Here are some skills which you should practice to maximize your score:
Problem Solving & Decision Making: You will be given scenarios and asked to make decisions quickly and accurately. Practice problem-solving exercises and time yourself when answering questions to prepare for this section.
Critical Thinking: You need to be able to analyze information critically, draw conclusions, and make informed decisions. Reading, discussing issues, and solving puzzles will improve your critical thinking skills.
Communication & Listening Skills: You must communicate with callers and dispatch resources quickly and accurately. Practice typing quickly and accurately, listening actively, and understanding different accents.
Memory & Knowledge of Procedures & Laws: You must quickly recall and apply relevant laws and regulations. Practice memorizing facts, paying attention to detail, and reading up on public safety procedures and laws.
Keyboarding Skills: You must be able to type quickly and accurately. Familiarize yourself with different keyboard layouts, practice typing drills, and take typing speed tests to develop your skills.
Map Reading: The Criticall test includes a map reading section, which tests your ability to read and interpret maps to help locate callers. Familiarize yourself with different types of maps and practice recognizing symbols, roads, landmarks, and other features.
How to Maximize Your Score on the Criticall test?
Several strategies you can use to optimize your performance and maximize your score on the Criticall test. Here are a few tips to keep in mind:
Review Job Description: If you are applying for a specific job, be sure to research the duties and responsibilities of that role in order to get a sense of what skills and knowledge will be tested on the Criticall test.
Practice Sample Questions: Practicing sample questions will help you become familiar with the types of questions asked and give you an idea of how to approach them.
Research Public Safety Regulations: Familiarizing yourself with different public safety laws and regulations is essential for success on this exam. Be sure to research any relevant information related to emergency dispatch.
Take Timed Practice Tests: Taking timed practice tests will help you become accustomed to the timing of the actual exam and see which areas need more work. Review your mistakes: Make sure to review your mistakes on practice questions and focus on improving those skills for the real test.
Work with a Tutor or Study Group: If you are struggling to prepare for the Criticall test, consider working with a tutor or joining a study group. These resources can provide valuable guidance and support as you prepare for the exam.
On the day of the Criticall test, staying calm and focused on performing at your best is crucial. Here are some tips to help you do just that:
Pace Yourself: The Criticall test is timed, so it is important to manage your time effectively. Only spend a little time on any question, and be sure to leave time at the end to review your answers.
Stay Focused: It can be easy to get distracted during a long test, so stay focused on the task. If you find your mind wandering, take a deep breath and refocus.
Read the Instructions Carefully: Make sure you understand what is being asked of you before you begin working on a question. If you are unsure, feel free to ask for clarification.
Get a Good Night's Sleep and Arrive on Time: It's important to arrive well-rested and on time for the Criticall test. Being tired or stressed can negatively impact your performance on the test.
Pay Close Attention to the Instructions: Make sure you understand what is being asked of you before you begin working on a question. If you are unsure, feel free to ask for clarification.
Review Your Answers: Take the time to review your answers at the end of the test. This can help catch any mistakes you may have made and give you a chance to make sure all questions are answered correctly.
The Criticall test is an important part of the application process for many 911 dispatcher roles. With the right preparation and test-taking strategies, you can maximize your chances of success on this exam. By reviewing relevant material, practicing sample questions, improving your test-taking skills, and taking a practice test, you can ensure that you are well-prepared for the Criticall test. Good luck!